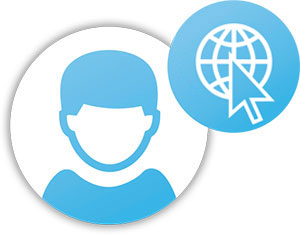 As part of the Equator family of products the Equator Employee Portal allows employees to access their personal information directly from a Web Browser. Typically this will allow your employees to view or modify their specific personal information. This can reduce the burden on your Human Resource professionals to respond to routine employee requests and enquiries, and free them from many routine administration tasks maintaining the database.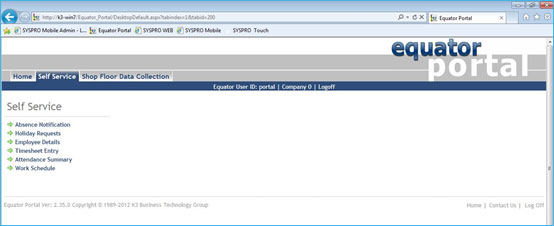 By adding links to your Company policy and procedural documentation; the Equator Employee Portal can become the main tool used by our employees to satisfy their HR needs
By using a standard Web Browser, deployment of the Equator system at remote sites is greatly simplified. With the ability to control access to the system via sophisticated security functions it is possible to allow employees to connect to your system from home or any Internet enabled location.
The system also allows employees to post requests for holidays, absence and overtime and to monitor the progress of such requests through to approval. Standard enquiries are provided covering time recording, scheduled work patterns and pay information, depending on which Equator modules are used, including historical data.
Innovative processing with real time information and a simple user interface which is configurable to individual user preferences.
If your company has the Equator Shop Floor Data Collection or Time and Attendance modules, the Equator Employee Portal provides for real time entry and validation of data.
Employee self service
Holiday requests with approval monitoring
Absence requests
Absence notification
Overtime requests with approval monitoring
Time clocking enquiries
Scheduled work pattern
Payslip queries and printing, including history
Real time shop floor data capture, including dynamic 'scheduled jobs list'
Real time attendance recording
Time sheet entry
Download Case Study
The Equator Employee Portal has allowed us to stop distributing 3 paper reports each month for employees who can now log in at anytime to view attendance, overtime and holiday detail rather than wait until payday. Holiday requests are also booked electronically appearing on the administrators' screens at the time the request is made. The portal has become a valuable addition to the business process, having improved holiday booking, reduced administration and eliminate paperwork, especially at month end." Richard Dixon, Systems Accountant, KLM UK Engineering